A powerful tornado has ripped through several southern US states, destroying buildings and knocking out power, killing at least 23 people.
strong storm hits Mississippi, Alabama and Texas On Friday, golf ball-sized hail was produced and prompted authorities to warn residents they were in a "life-threatening situation".
The National Weather Service issued an alert to people in the path of the tornado, saying: "To save your life, hide now!"
"You are in a life-threatening situation. Flying debris could be fatal to those without shelter…could cause considerable damage, possibly total destruction, to homes, businesses and vehicles. "
Tornadoes wreaked havoc in the rural Mississippi towns of Silver City and Rolling Fork Friday night before continuing to sweep northeast across Alabama at 70 mph.
In Texas, five people were injured in two tornadoes traveling at 100 mph around 5 a.m. Friday.
Mississippi Gov. Tate Reeves tweeted that search and rescue teams were active and officials were sending additional ambulances and emergency resources to those affected.
Shelters were opened for those whose homes were damaged in the storm.
In the town of Rolling Fork, people were trapped among piles of rubble and the damage led to a gas leak, the Sharkey County Sheriff's Office said, according to local newspaper Vicksburg News.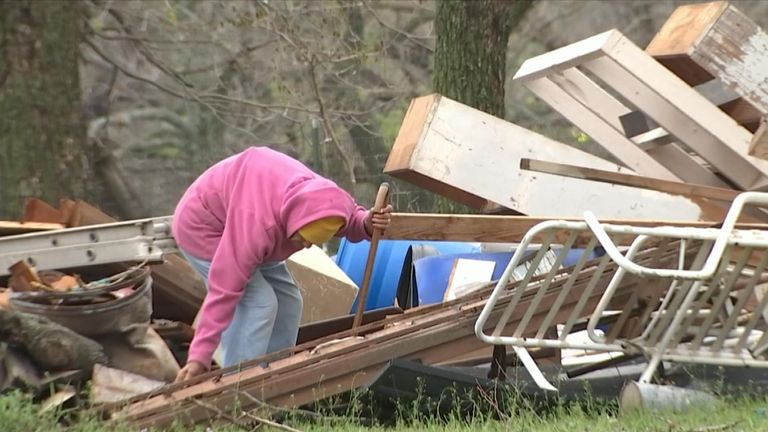 read more:
Rare tornado hits Los Angeles suburbs as 'bomb cyclone' hits US
California floods: Atmospheric rivers bring snow, strong winds and flooding
Walker Ashley, a professor of meteorology at Northern Illinois University, said the storm is a "supercell" that produces some of the deadliest tornadoes and most destructive hail.
He said Friday's storm, an overnight storm, was "the worst of its kind".
WTVA meteorologist Matt Laubhan overwhelmed as tornado hits

A car was swept away and two occupants drowned in torrential rain early Friday in Missouri as part of a severe weather system.
A tornado watch remained in place for parts of eastern Mississippi and northern Alabama through early Saturday, according to the Weather Service. Early on, these watches covered nearly the entire state of Mississippi.