CNN
—

Hall of Fame football player and television analyst Terry Bradshaw said the NFL can be a "tough sport," but players accept the danger when they play.
In an interview on CNN and HBOMax's "Who's Talking to Chris Wallace," the 74-year-old recalled getting knocked out multiple times in his career, but argued that it was all about what he loved part of the movement.
"It's dangerous. It's a tough sport. You better be brave and not be afraid of evil," the four-time Super Bowl champion told host Chris Wallace.
"It's something we grew up with. It's something I love. Getting hurt or getting hit is part of it, and we accept it."
The NFL has come under renewed scrutiny this season over concussions, starting Sept. 25 when Miami Dolphins quarterback Tua Tagovalia was injured in a game but allowed to return.
On Friday, the league said concussions have increased 18 percent during the 2022 regular season.
NFL chief medical officer Dr. Allen Sears noted that the league has had 149 concussions this season, up from 126 last season, according to injury data released earlier Friday.
One of the biggest concerns about repeated head blows and concussions is their link to a deadly brain disease called chronic traumatic encephalopathy (CTE).
The NFL's current brain injury is triggered if a player takes a blow to the head and exhibits or reports symptoms or signs suggestive of a concussion or stinger (nerve pinch) or a team sports coach, booth ATC observer, team doctor, game official. Concussion Protocol, Coach, Teammate, Sideline Independent Neurotrauma Consultant, or UNC Booth Initiation Protocol.
Players are moved to the sideline or stabilized on the field and required to be tested.
"A lot of people have a hard time accepting it," Bradshaw said, adding that he knew the dangers involved.
"Right now, I don't accept the CTE results. I don't accept the brain damage we found. I don't accept the fact that so many players can't be diagnosed with CTE until it's too late."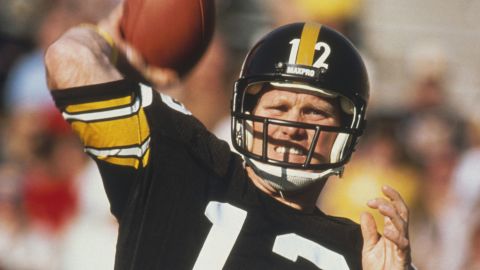 Bradshaw was a core member of the Pittsburgh Steelers dynasty in the 1970s, the team won four Super Bowls in six years, he was named the Super Bowl Most Valuable Player twice, and also won the 1978 League MVP award season.
He's best known for his role in "The Perfect Reception" — an incredible win in the 1972 AFC Divisional Playoffs in which Steelers running back Franco Harris picked one late in the fourth quarter. Deflected pass and run for a touchdown.
Bradshaw was the quarterback to start the game, and while admitting it was "not one of my best pitches," NFL Network in 2019 named it the best game in the league's 100-year history.
The former quarterback knows he's taken a lot of hits throughout his career. While playing, he said he went to a clinic for tests and found he had "quite a few concussions" due to scarring on his brain.
Still, the iconic quarterback doesn't think the sport is too dangerous to play.
"I've played it, so I obviously don't think it's too rough," he said. "I love it. I love it. As a player, as a quarterback, I'm as proud of myself as I think most quarterbacks are.
"We have to stand up there and trust the group of people around us or we'll just get slammed, but we always have to deal with that.
"I'm a bit of a gladiator. I love being in that arena. It's a scary arena."
Bradshaw retired after the 1983 season and was inducted into the Pro Football Hall of Fame in 1989.
After retirement, he explored the world of sports media and became a core member of FOX's NFL coverage.
With the intensity and pressure of being one of the best NFL players on the planet, this new role is a much-needed change.
Bradshaw has been open about the mental health issues he has experienced while performing on the biggest stages and has been encouraged by the responses he has received after speaking about his issues.
"I'm not good at winning because winning means I have to do it all over again," he said.
"And I know how hard it was to win that one. The pressure tore me apart."
He added: "I couldn't enjoy it. I don't know why. I didn't like playing football because I couldn't take it so seriously. It was always just a game for me and I couldn't take it so seriously.
"I can't understand people talking so cruelly and meanly, I don't like that at all. That's why I prefer life outside of football, because I can entertain, make people laugh and have a good time."
In December, Bradshaw revealed he also struggled with his own health last year – being diagnosed with bladder and skin cancers.
He told Wallace that he would still have follow-up appointments for bladder cancer, but as a man of faith, he said he wasn't scared after his diagnosis.
"When I first had cancer, it didn't bother me," he said.
"I just feel like if I die from this stuff I'm going to heaven, if I don't then I can sit on earth and play football and be with my family, my beautiful wife.
"The most disturbing thing is waiting for the report after all the tests are done. Then you get a call saying you don't have cancer. So that's the most stressful time."
In a wide-ranging interview with Wallace, Bradshaw talked about his love of music and acting, and he also predicted the upcoming Super Bowl on February 12.
The Kansas City Chiefs and Philadelphia Eagles will battle it out at State Farm Stadium in Glendale, Arizona, and Bradshaw said it will be difficult to pick a winner.
He said both quarterbacks have what it takes to motivate their teams to victory, but acknowledged his prediction was influenced in part by his wife Tammy.
"I did pick the Chiefs and the Eagles to go to the Super Bowl," he said. "So I went there for a good thing.
"But the more I learned and collected, the more confused my brain became.
"But I'm married to a Chiefs fan. So if the Chiefs don't win, it's no big deal. At least, my wife is happy with me."
The full interview on "Who's Talking to Chris Wallace" is airing on HBOMax, Sunday at 7 p.m. ET on CNN.