Video footage shows Tire Nichols being punched, kicked, tasered, batoned and pepper sprayed during a violent arrest in Memphis.
Three days later, the father of one child dies beating He received on Jan. 7 that five officers were charged with second-degree murder.
Police initially said Mr Nichols was pulled over for reckless driving and there was a "conflict" in an attempt to detain him.
However, Memphis Police Chief Cerelyn "CJ" Davis said a review of the incident could not "substantiate" the reckless driving claims.
Here's a timeline of key moments in the footage released by police, which captures the incident from 8.24pm to 9pm.
8:24 p.m.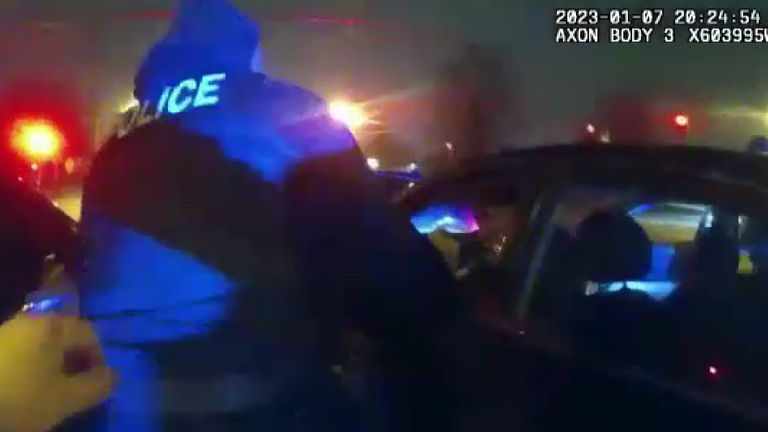 Mr Nichols' car, which was seen for the first time, had stopped at a junction and was ordered to get out by two officers.
One of the officers opened the driver's door and dragged the 29-year-old out.
Mr Nichols can be heard telling them: "Damn it, I didn't do anything."
8:25 p.m.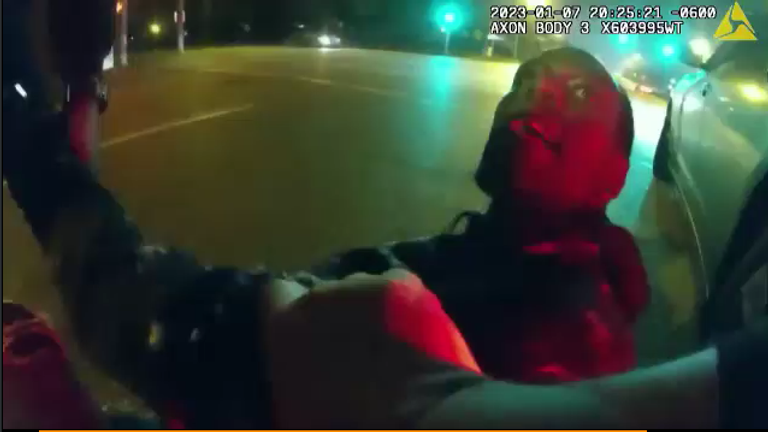 As he was forced to take the oath, Mr Nichols could be heard trying to reassure officers by saying: "Okay, okay."
One of the officers told him: "I'm going to spank your ass."
Mr Nichols said: "Well, I'm on the ground … stop, stop … you guys are really doing a lot of things right now. I just want to go home … stop. I'm not doing anything."
He then broke free and fled in the direction of his mother's house.
An officer fired his Taser as police chased after him.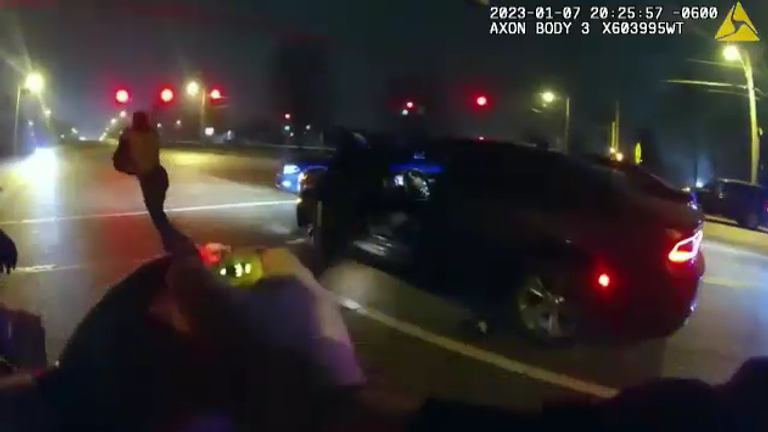 8.26pm to 8.31pm
There was no video of Mr Nichols during this period, and it was apparent that two officers had arrested and detained Mr Nichols.
8:31 p.m.
Mr Nichols was seen being overpowered by two officers on the ground, less than half a mile from where the traffic stop took place.
8:33 p.m.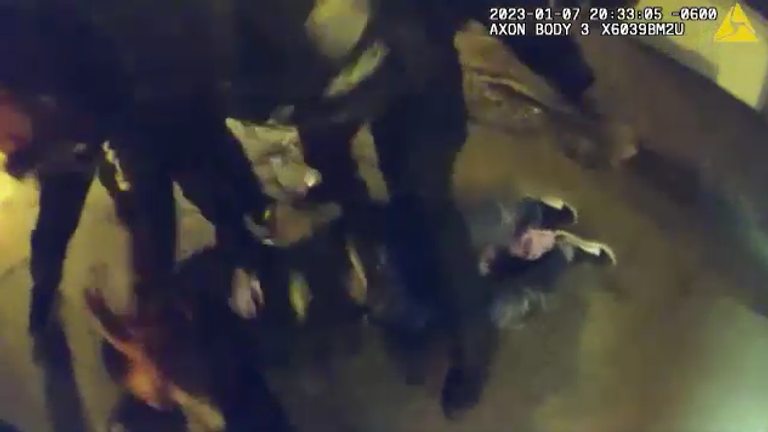 A third officer arrived at the scene.
"Do you want to get sprayed again?" one of them said.
Two police officers can then be seen punching and kicking Mr Nichols as he lay on the ground as he tried to shield his head from the blow and screamed: "Mum. Mum."
The new officer told his colleagues to be "careful" before spraying Mr Nichols, who again called out: "Mum. Mum."
His mother's house is not far from him.
An officer then ordered Mr Nichols to "give me your hand".
A fourth police officer arrived on the scene.
Mr Nichols was then sprayed again, apparently also hitting another officer, who could be heard swearing.
8:34 p.m.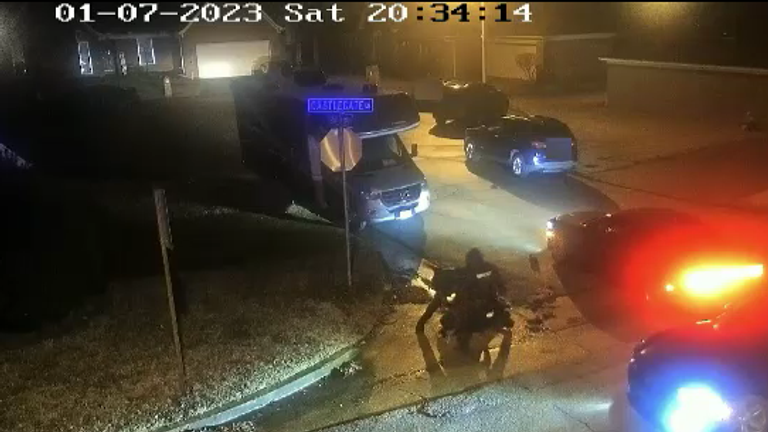 One of the officers kicked Mr Nichols twice.
The officer who walked away came back, held up his stick and said, "I'm going to baton you the fuck".
8:35 p.m.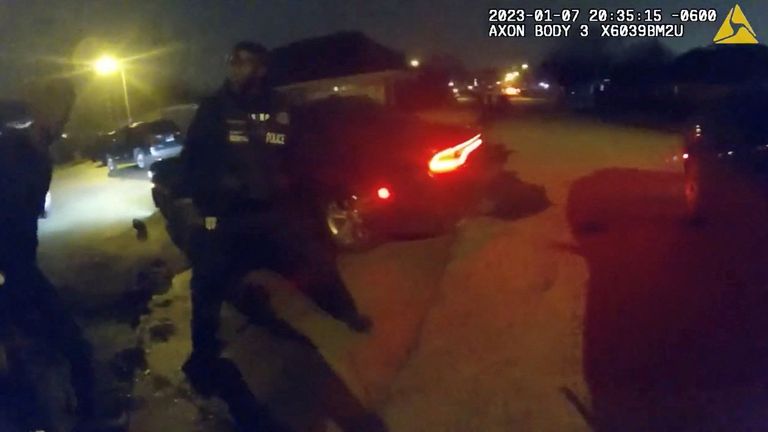 The officer with the baton hit Mr Nichols three times with it as the other officers began to stand him up.
One officer punched Mr Nichols at least five times in the head while two other officers held him up.
He fell to the ground and the police held him down.
8:36 p.m.
A fifth officer arrived on the scene and kicked Mr Nichols before another officer kicked him.
A sixth and seventh officer were at the scene to observe. One of them was calling on his radio.
8:37 p.m.
The police stepped back and Mr Nichols was now in handcuffs.
8:38 p.m.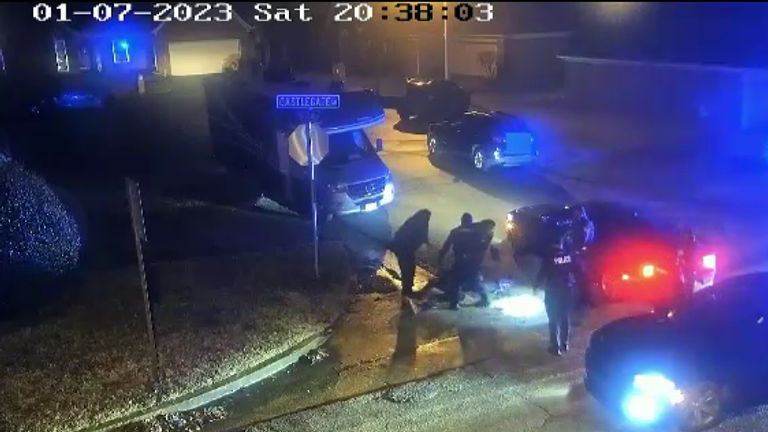 Mr Nichols was dragged to the ground and sat against a patrol car.
8:40 p.m.
Officials stood by to discuss the incident, laughing and talking.
One man complained that his leg was hurt.
8:41 p.m.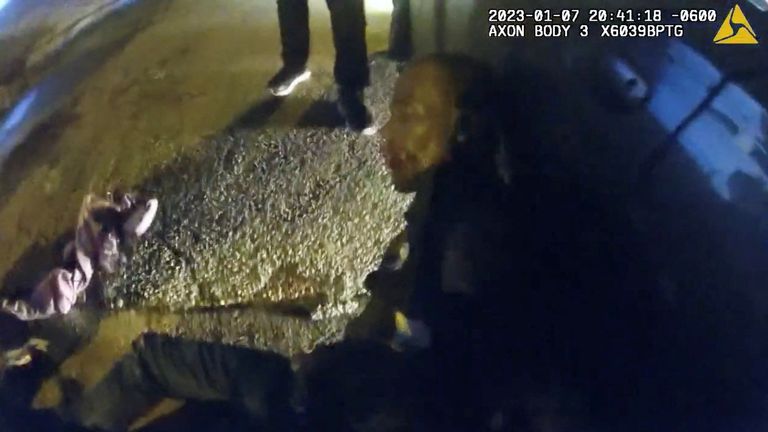 Mr Nichols fell to his right on the ground.
"Hey, sit up, bro," an officer said. Mr Nichols was grabbed by the arm and pulled back to a sitting position.
Two emergency medical personnel attended, but it was unclear what treatment would be given.
8:41pm to 8:55pm
Mr Nichols remained in place as police moved around.
One leaned over and told him, "You're not going anywhere."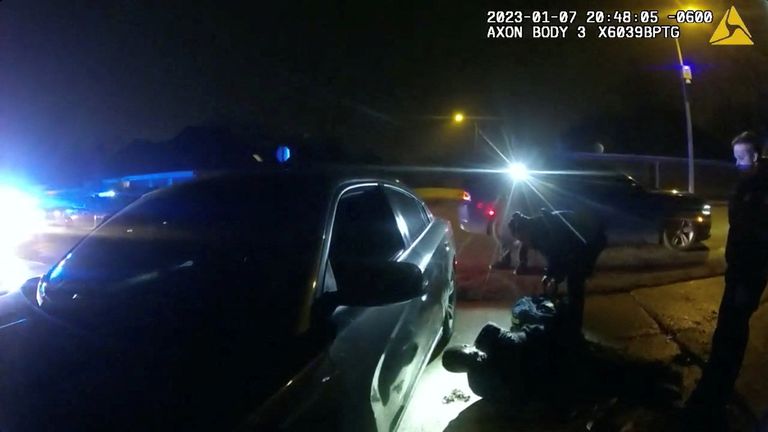 8.55pm to 9pm
As Nichols leaned against the police car, first responders appeared to be tending to him again.
9 pm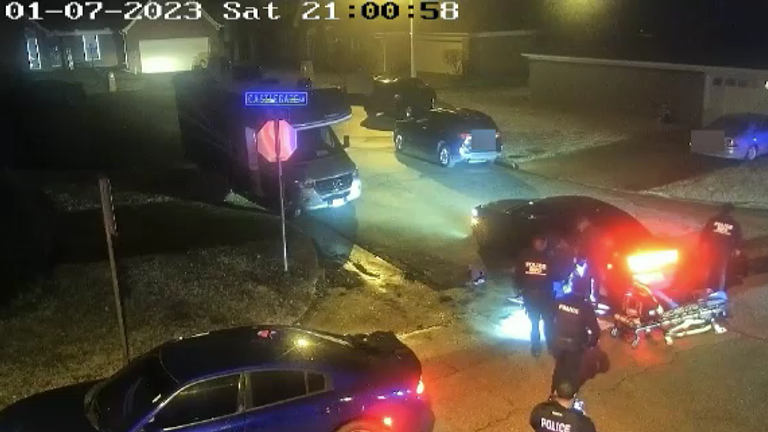 A stretcher was wheeled into the area and an ambulance arrived two minutes later.
9:18 p.m.
Mr Nichols complained of difficulty breathing and was taken to hospital.
A later autopsy revealed he was "bleeding profusely from severe beatings".