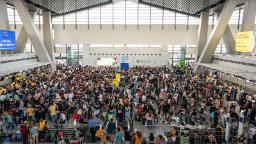 (CNN) —
Chaos erupted on New Year's Day in the Philippines after a severe airport power outage temporarily impacted air traffic control, disrupting nearly 300 flights and stranded tens of thousands of travelers in Southeast Asian hubs.
Ninoy Aquino International Airport (MNL) is the main gateway for travelers to the Philippines, serving the capital Manila and surrounding areas.
The airport operator, the Civil Aviation Authority of the Philippines (CAAP), said in a statement that the technical problem was first detected Sunday morning.
It added that as of 4pm local time on New Year's Day, a total of 282 flights had been delayed, canceled or diverted to other regional airports, affecting about 56,000 passengers. It was unclear how many overflights were affected, according to Reuters.
At a press conference on Sunday night, Jan. 1, Philippine Transportation Secretary Jaime Bautista apologized for the inconvenience to passengers and said the airport's central air traffic control system suffered a severe power outage. He added that while there was backup power, it was not able to provide enough power.
"It's a problem with the air traffic management system," Bautista said. "If you want to compare (our airport) with Singapore's, on the one hand, there's a big difference — they're at least 10 years ahead of us," he said.
Bautista added that his transportation department is also coordinating with the affected airlines to "provide free food, refreshments, transportation and lodging to all affected passengers."
Flights affected by the airspace disruption included a Manila-bound Qantas aircraft that departed Sydney shortly before 1pm local time on January 1. Three hours into the eight-hour journey, flight QF19 was forced to turn around and return to Australia.
"No airlines were able to reach Manila on Sunday afternoon due to the closure of local airspace by local authorities," Qantas said in a statement. "This meant our flight from Sydney had to be diverted."
In an update, CAAP said that as of 5.50pm local time, operations had partially resumed and the airport had started accepting inbound flights again. A statement shared by the transport ministry on Facebook said airport operations had returned to normal, but repairs to equipment were still underway.
Global air travel has been hit hard by the Covid-19 pandemic, but passenger traffic has been slowly recovering, with industry experts predicting the industry will return to previous normal levels by 2025.
Photos and videos shared online showed huge crowds at the NAIA site. Serpentine queues could be seen at several check-in counters. Many passengers with luggage in tow were also spotted huddled in front of flight arrival screens waiting for updates.
Filipino businessman Manny V. Pangilinan shared with Twitter He was supposed to be on his way back to Manila from Tokyo, but the plane had to return to Haneda Airport due to "failures in NAIA's radar and navigation aids."
"Six hours of useless flying," he said. "The inconvenience to passengers and the loss of tourism and business is dire," said Pangilinan, whose plane finally landed in Manila at 11 p.m. local time.
Student Xavier Fernandez is one of thousands affected by the New Year's flight disruption. He spent hours on the phone with United Airlines and other airlines to rebook him for a later flight to San Francisco. "It was an absolute nightmare," He told CNN, adding that he had been at the airport for more than 10 hours.
Fernandez also said there were other passengers who boarded their plane Sunday morning before the outage was announced and ended up having to disembark after waiting on board for several hours.
The massive flight disruptions come during the Philippines' busy end-of-year travel season, when large numbers of foreign tourists and citizens abroad fly into the country from abroad to celebrate Christmas and New Year, one of the country's most important holiday celebrations.
Fernandez has been celebrating Christmas and New Years with his family in Manila.
"Literally the worst way to start the year," he said of the episode.