Railroad crews in Ohio have been burning toxic chemicals from a freight train that derailed last week after ordering nearly 2,000 residents to evacuate their homes.
The train, operated by Norfolk Southern Railroad and consisting of three locomotives and 150 freight cars, derailed while traveling from Illinois to Pennsylvania shortly before 9 p.m. Friday.
The incident sparked a fire that forced the evacuation of hundreds of nearby homes.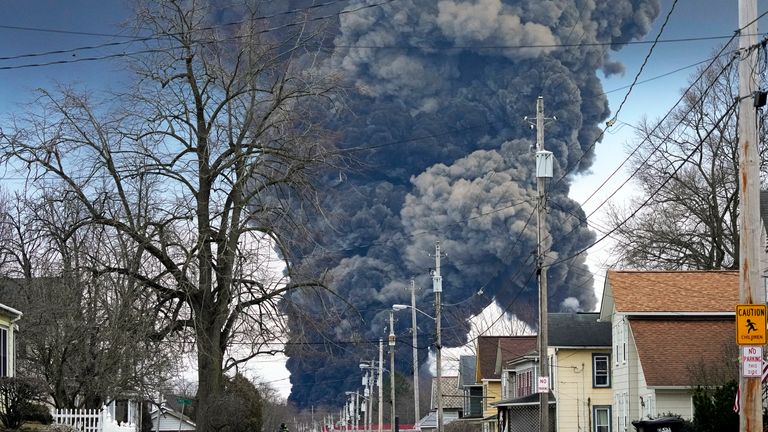 According to the National Transportation Safety Board (NTSB), about 50 vehicles actually went off the track, 20 of which contained hazardous materials.
Public safety concerns deepened after officials said Sunday they found pressure relief devices on some tankers had stopped working, which the company said could "lead to catastrophic failure."
Ohio Gov. Mike DeWine said in a statement that the chemical composition of the five train cars in question was "unstable and could explode, causing deadly shrapnel and toxic fumes."
A plan was drawn up for a controlled release of the car under the supervision of experts and emergency officials.
Vinyl chloride, a highly flammable and carcinogenic gas, began with an explosion followed by a steady incineration of the remaining cargo, Ohio Emergency Management Agency spokesman Sandy McKee said.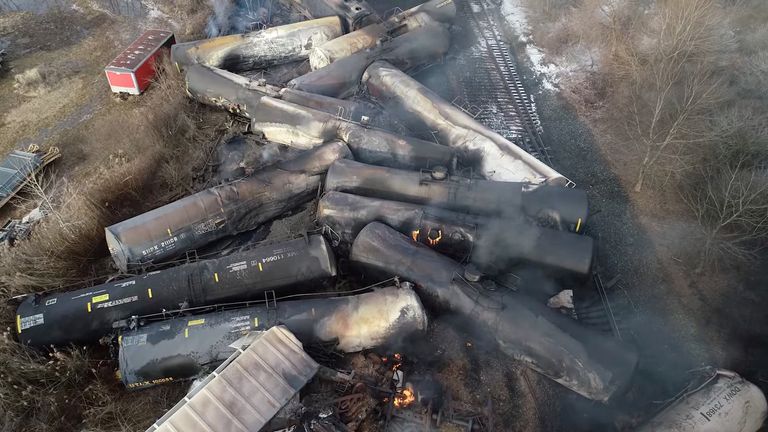 Video from the scene on Monday showed a thick cloud of black smoke rising from the accident site in East Palestine, Ohio, a village near the Pennsylvania border northwest of Pittsburgh.
Authorities said there were no casualties from the operation or the incident itself.
Peggy Clark, spokeswoman for the Columbia County Emergency Management Agency, said mandatory evacuations covered about 1,900 people in Ohio alone.
read more:
285 aftershocks recorded in quake-hit areas felt stronger
The moment a young girl is pulled from the ruins of a Syrian building
UN chief fears world 'sleepwalking into wider war'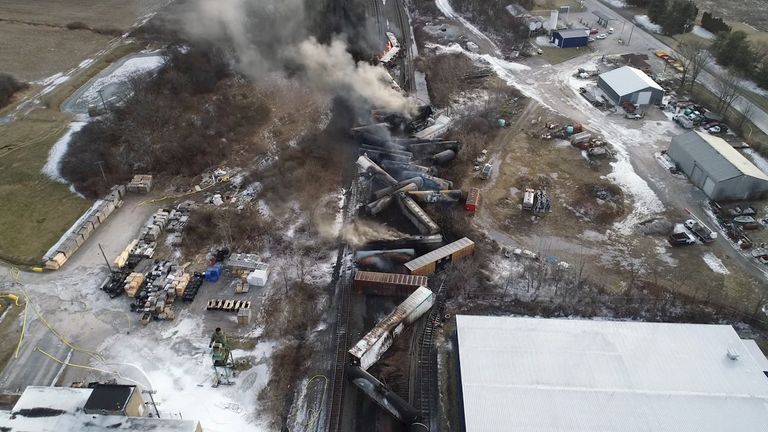 Mr. DeWine's office warned that the fumes released into the air by the ventilation operation could be fatal if inhaled, along with the risk of skin burns and severe lung injury.
According to the National Cancer Institute, vinyl chloride is an industrially produced colorless gas that burns easily and is used primarily to make polyvinyl chloride (PVC) pipe and other products.
It is also a by-product of cigarette smoke.