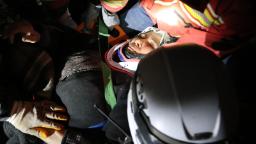 Five days after a devastating 7.8-magnitude earthquake struck Turkey and Syria, rescue teams were scrambling to rescue victims who may still be alive beneath the rubble, with a UN liaison officer in Turkey warning they were "close to the end of the search window" .
While calling on the international community to "act now" to provide humanitarian aid to Syria, Syrian-American actor Jay Abdo told CNN on Saturday that civilians were "in a race against time" to rescue their loved ones.
More than 24,000 people have died in the two countries, according to authorities.
In tragedy, however, there are miraculous images of survival and rescue even in the days following the quake.
The following is a list of survivors found among the wreckage:
A 70-year-old woman named Menekse Tabak was rescued from the rubble of the Turkish city of Kahramanmaras 121 hours after the earthquake.
A 16-year-old boy was rescued from the wreckage in the same area hours earlier. Another teenage survivor, a 14-year-old boy, was found 24 hours later.
Multiple families were found in the same city, including the two brothers and their mother who were rescued 78 hours later, and the mother and 6-year-old daughter who were found 68 hours later.
Six people, including a child, were rescued from the rubble in the center of Kahramanmaras in the 60th hour in what CNN Turk reporters called a "miracle escape".
Sisters Fatma and Merve Demir were rescued from under concrete in Turkey on Wednesday after spending 62 hours under a collapsed building.
In a similar situation in Syria, two children were held between concrete for 36 hours, with one sister protecting the other before they were rescued.
An 8-year-old child, Yigit Cakmak, was rescued from a collapsed building in Turkey's Hatay province, 52 hours after the earthquake struck the region. After the reunion, he was held in his mother's arms.
A 10-year-old man was found alive 90 hours later in the same area where a 21-year-old man was rescued six hours earlier.
A newborn baby girl was found alive in Syria on Tuesday with her umbilical cord still attached to her mother, who is believed to have died after giving birth.
Watch CNN's Nick Paton Walsh report here: