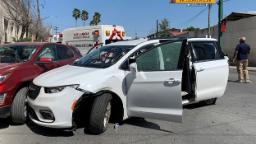 The White House said it was still working with Mexican officials to learn more about the deaths of the two U.S. citizens who were kidnapped and killed this week.
Press Secretary Karin Jean-Pierre said senior White House officials were taking up the matter and that President Joe Biden had been briefed on the situation. The U.S. is still working with Mexican officials to get "all Americans back to the U.S.," she said.
"Our deepest condolences go out to their family and friends," Jean-Pierre said. "Out of privacy and respect for the families, we will refrain from further comment on these circumstances at this time."
She said government officials were in touch with the families of the Americans kidnapped in Mexico, two of whom, according to Mexican authorities, had died.
U.S. agencies, including the FBI, Department of Homeland Security and the Drug Enforcement Administration, are working with their Mexican counterparts on the situation, Jean-Pierre said.
"Attacks against U.S. citizens are unacceptable, no matter where or under what circumstances," she said. "We will continue to work closely with the Mexican government to ensure justice is served in this case."
She pointed to previous efforts by the government to crack down on transnational criminal groups, including Mexican drug cartels and people smugglers.
"We remain committed to applying all of our efforts and resources to address them," she said. "At this time, our primary concerns are the safe return of our citizens, the health and well-being of survivors of this attack, and the support that must be provided to the families of those in need."